zoom in on prima qualität

Have you ever heard of the German expression "prima"?
Being a little old-fashioned, the term is still existent in people's vocabulary today and it certainly has a special standing here at Merz b. Schwanen. We still remember our grandparents happily saying: "Das ist prima" over good things or situations.
"Prima" is a charming expression synonymously for excellent, best-quality or simply good. While the term is just as old as the loopwheelers the Prima Qualität fabric is made on, both still stand for good workmanship today.
Like our grandparents, who wanted everything to be good for us, we also want this for you. Speaking of it: The good is exactly what we like to share with you! We love to do so in the form of well-crafted textiles. So this fabric literally is what its name translates to: mighty fine quality!
"Prima" material

What is it about this fabric, earning itself the seal "prima"?
While the durable 2-count models such as the 206 henley easily accompany you throughout the whole year, the lighter single thread T-shirts especially unfold their full strength during warm weather: assuring the best feel on your skin while still letting you sense the sun and fresh air.
Both versions of the fabric are entirely made of pure organic cotton. The sturdy yet comfortable haptic is paired with signature Merz b. Schwanen design elements granting maximum comfort. Just "prima"!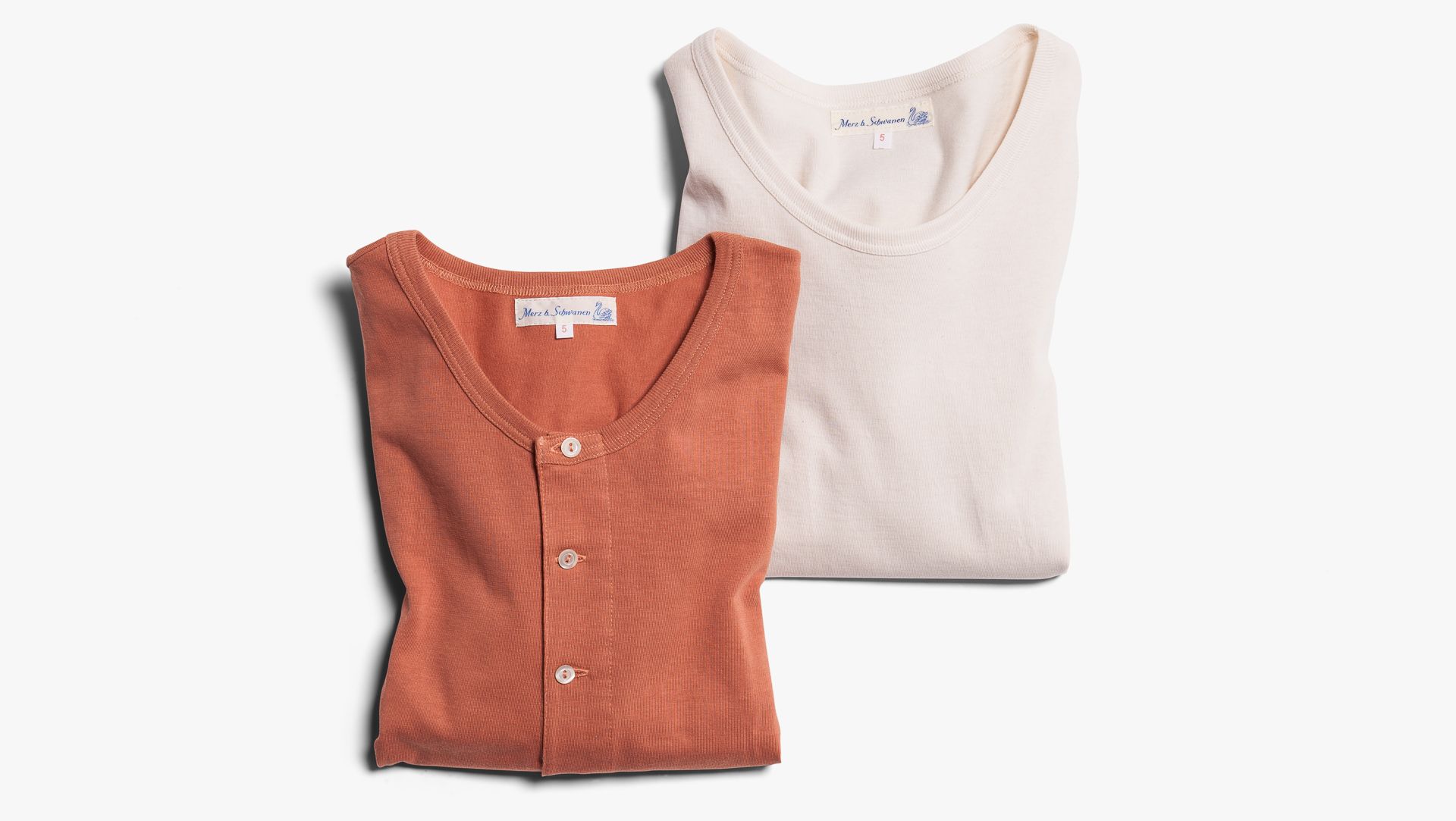 "prima" options

Few of our fabrics add such a variety to your wardrobe!
Whether you opt for the classic button border shirt, the timeless T-shirt or even a modern oversized fit, it's always the same exceptional quality.
With this wide range of cool styles, you are certain to find one matching exactly your look.

"prima" colors

What more can you ask for than such a variety in styles? Right, a versatile color palette!
Freshen up this season up with limited chromatic highlights such as the faded hues of natural light army and spirited light rust, it's all about spending the summer outside: Either on adventurous trips through green forests, rides with your rustic retro VW bus or long nights in your favorite bar.
You like it more neutral? Don't forget about our staple colors you can rock in various iterations
— always granting a "prima" time.