Founded in 1911, Merz b. Schwanen is one hundred and eleven years old.
One hundred eleven is more than just a number; it represents the fact that throughout these years, people gave their all to produce authentic and high-quality goods. Not only were those years prosperous, but everyone involved contributed their expertise and knowledge and went to great lengths to create something worthwhile and good.
In 1911, Balthasar Merz, the company's founder, had an aspiration that still exists today. In 2011, Gitta and Peter Plotnicki breathed new life into the original vision and revived the brand.
This year, 2022, marks 111 years in the history of Merz b. Schwanen.
This number represents a vision, aspirations, bravery, stamina, and a substantial amount of hope and confidence. It demonstrates that we are capable of great success if we refuse to allow adversity to bring us down, dare to embrace our talents and strengths, and always have faith in ourselves.
We, Gitta and Peter and the Merz b. Schwanen Team, are grateful and proud to be a part of this story, and we sincerely appreciate your support and confidence!
Curious about what happened during these 111 exciting years? Scroll through the images below and find out more.
1911
The Beginning
Merz b. Schwanen was founded by Balthasar Merz in Albstadt, Germany.

2005
The seemingly end
The production was discontinued by descendants of the founder.

April 2010
The fateful find
An over ninty-year old henley shirt caught the couple's eye at a flea-market in Berlin. It was an original by Merz b. Schwanen.
The vision of reviving the traditional method of textile production and combining it with a modern, sustainable approach was born.

July 2010
reviving the gentle giants
Gitta & Peter traveled to the Swabian Alb and discovered a room full of authentic, original loopwheelers from 1889 to the 1960s – dusty and unused. Guided by their vision of combining the good of the past with contemporary demands, they started to breathe new life into these gentle, old giants.
2011
GOOD ORIGINALS
In January 2011, Merz b. Schwanen presented the first GOOD ORIGINALS men's line at the international Fashion Fair Berlin. The idea of blending original loopwheeled fabrics with authentic as well as modern designs was a huge success.
2016
GOOD BASICS
In 2016, the contemporary GOOD BASICS line including women's, men's, and genderless garments, was launched. As a result, the second production site in Portugal was established. What started with knitwear pieces such as beanies and scarves has become a full range of styles covering sweatshirts, hoodies, vests, pullovers, and more.
august 2022
The first Flagship Store
In August 2022, we opened our first physical location – our first Merz b. Schwanen Flagship Store right in the heart of Berlin. 
November 2022
Celebrating 111 Years
The Merz b. Schwanen community is steadily growing for which we are truly grateful. Years of experience can be seen and felt in all products, details and services.
Previous
Next
Get your own piece of Merz b. Schwanen history!
In order to celebrate this occasion and commemorate this milestone, we crafted two unique and special T-shirts. Both are loopwheeled in Germany, received an exclusive print, and are now available to pre-order until November 30th.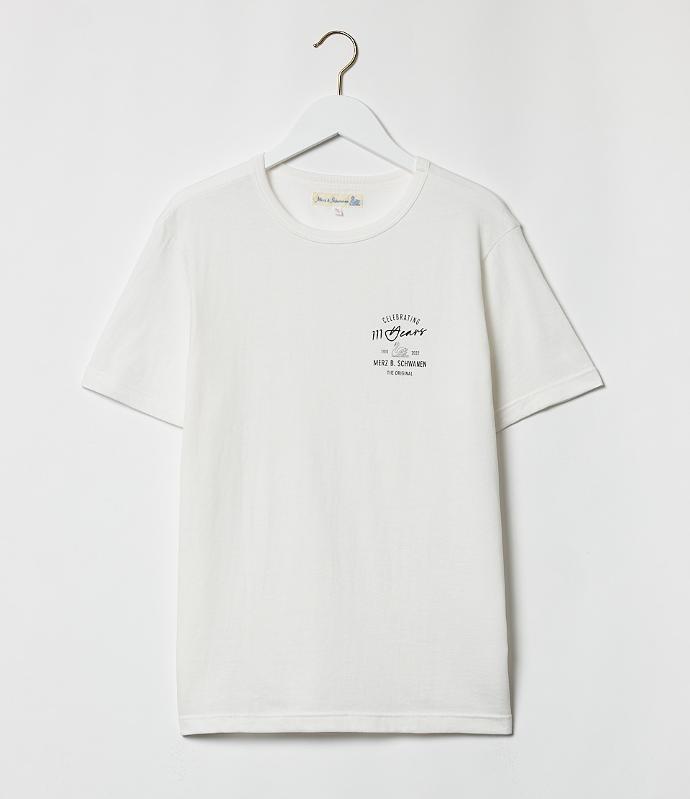 GOOD ORIGINALS | 1950s111 loopwheeled T-shirt with special print, 5,5oz
01 | white
54,90€