Why is there a price rise for our Main Material organic cotton?
Being aware of all the ecological problems going on in the world over the last years, our mission to contribute to a better future began by choosing good materials. Original, organic, and simply good basics, this is what our brand has stood for ever since. A good T-shirt made of organic cotton is timeless, long-lasting, and works for any occasion. For this reason, we decided from the beginning to use organic cotton as our main material. 
Since our re-establishment in 2011, the knitting market has changed a lot. With Covid-19 related shipping delay, increased costs were causing issues and supply movement. Significantly affected is our main material, organic cotton. 
In essence, we reluctantly have to increase our prices for some garments. 
We do our best to keep it as minimal as possible!
Hereafter we want to overview the textile market changes and the benefits of organic cotton for you.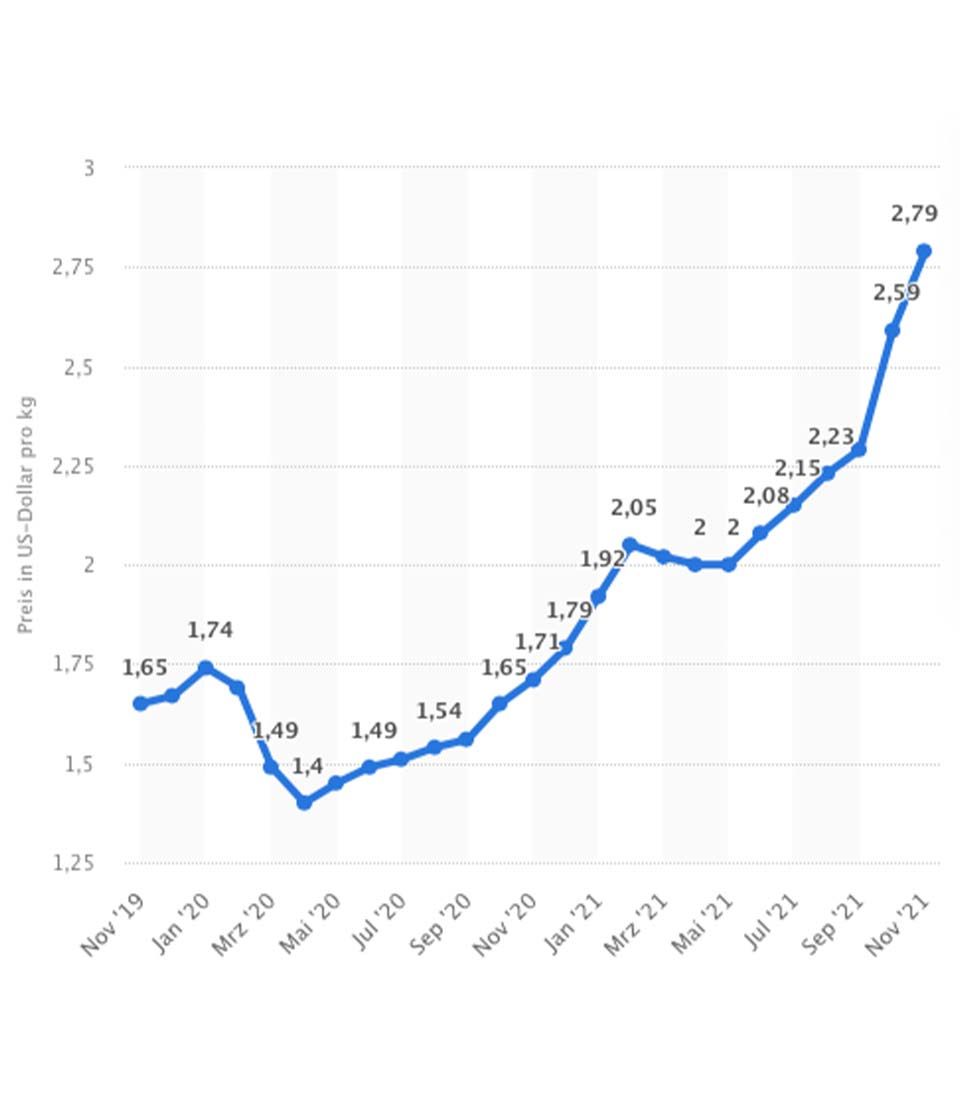 REASONS FOR PRICE RISINGS:


- increased demand for organic cotton, which is more significant than the supply
- Covid-19: sanitary crisis, delivery bottlenecks, lockdowns
- difficult weather conditions like floods, crop losses, and drought & economic recovery after several crisis in producing countries 
- the textile market is strongly affected by the Uyghur crisis in China
- mass purchase of raw materials 
- higher demand for natural and sustainable materials: changes in customer habits
- increased tariffs, loans, prices in general, and taxation 
- logistics problems
This statistic shows the monthly cotton price in global trade from November 2019 to November 2021. In November 2021, the price per kilogram had increased to 2,79 USD. 
Image: @Statista/Cotton prices in US-Dollar per pound
https://de.statista.com/statistik/daten/studie/444245/umfrage/monatlicher-baumwollpreis-im-welthandel/
We are aware that this is not very happy news. Nevertheless, we appreciate our organic cotton and would like to hold on to it!
Here is a review of the benefits of organic cotton:
- no genetic engineering

- reduction of water waste & environmental footprint

- no chemical fertilizers & pesticides

- prevention of monocultures

- better for the health of farmers: because of the pesticides, 77 million cotton workers suffer poisoning every year 

- farmers work under fair working conditions


Benefits for you:
- feels nicer & softer on your skin

- does not contain additives and therefore doesn't cause skin irritation and allergies

- is breathable and does not make you sweat

- is very absorbent: can absorb up to 20% of its weight in humidity without feeling damp

- is characterized by extreme durability & resistance

- has a high stretching capacity
It is important to us to create good designs by choosing natural, sustainable, and recycled materials and contributing to a good future.
Despite the price increase, we believe in using organic cotton as our primary material.
You want to find out more about organic cotton? 
Thank you for your understanding and support. We hope you enjoy our garments for a long time!